Currently in production, directing a feature film for SaReGaMa (twin sisters' coming of age story). He is developing a feature film with Disney-UTV (inspired by a Satyajit Ray novella) (2014-17). He set up a superhero franchise for a Disney TV show as Creative Director (2014-15).
Rajan co-wrote / directed / exec. produced feature film GATTU (story of a boy fulfilling his dreams against all odds). It premiered and won at Berlin International Film Festival in 2012, a screen award in India and subsequently won 20 other international awards (including Best Director, Best Actor and several Audience Awards). Gattu was released in India by Rajshri and sold internationally by All Rights Ent.
Now based in Mumbai, Rajan started his filmmaking career in London in 1990 and practiced there for fifteen years, until 2005. Rajan's acclaimed debut feature film Dance of the Wind, 1997, (produced in London) was set in the world of Indian classical music and dealt with teacher/disciple relationship.
Dance of the Wind was an international co-production between six countries, first of its kind in India, and also in Europe. The co-producers were Film council, UK; Cinematheque, France; NFDC India; also various funds from Germany, Switzerland and Netherlands. The film premiered at Venice Film Festival and won major awards (Best Director, Best Actor, Audience Award etc.) at various festival including Rotterdam, Chicago, London, Nantes etc., while enjoying a successful worldwide theatrical release. It is still a favourite repeat on Art House circuits, and on UK, French and German TV.
For his conceptual and writing skills, Rajan has been recipient of the Huber Bals Award in Rotterdam, Montecinemaverite Award in Locarno, and was invited to the prestigious Equinoxe Workshop in France, led by legendary Jeanne Moreau.
He is an alumnus of the Royal College of Arts in London. In India, he graduated in Film Direction from FTII, Pune, and spent his formative years at the design school in NID, Ahmedabad.
His half hour FTII diploma WISDOM TREE (Bodhvriksha), dealt with the theme of nursing and caring for the old people. It garnered him a National Award in India and three International Awards at Oberhausen. He had been the youngest Indian filmmaker ever to receive such accolades.
Rajan created his innovative production outfit – Elephant Eye, first in London, where it implemented production of Dance of the Wind, and now in Mumbai, where it line-produced GATTU, various film installations, several short films and music videos, for a wide variety of private and public clients. His short film Flower Girl was an installation at World Expo 2005 in JAPAN. Later it played at the London Film Festival, IFFLA (Los Angeles) and Pusan Film Festival.
In 2009-10, Rajan created India's first feature length multi-media biopic, combining film and holography, on Sadhu Vaswani, the well know social worker and spiritualist during Indian independence and after. Rajan's subsequent interest in high-end technology made him work on DS Group's narrative museum that combines holography and 3D projections. Rajan is still keen on multiple screen stories. It all started with his collaboration on Escapade show at London's Royal Festival Hall, and later on the opening show of Khalsa Heritage Museum.
Rajan takes film-making workshops occasionally, serves on various juries, and is a permanent voting member of BAFTA awards (British Academy of Film and Television Arts).
Surrounded by poets and musicians, and growing in the oral tradition under the influence of his painter father, Rajan grew up with paint and brush. He was destined to become a painter but rebelled to embrace the Movies.
Kashmiri Khosa
Rajan's father K. KHOSA rebelled too. He became a modern painter assisting his father Somnath Khosa on large realist paintings. K.Khosa's growing body of work is found today in the National Gallery of Modern Art in India and with various international collectors all over the world – unlike
his father's realist paintings, K.Khosa's are figurative-abstract with metaphysical themes.
Shambhu Nath Khosa
Rajan's great-grandfather SWAMI SHAMBHU NATH of Kashmir was the well-known guru of Hampi caves (in Karnataka, India). It is said that Swami jee spent his last 20 years in the caves and left for heavenly abode in 1939. As a Guru, he used to sit before a burning log and heal thousands of ailing people. Today, the hills of 'Shambhu Natha Guhe' are famous and serve as a place of pilgrimage for many people.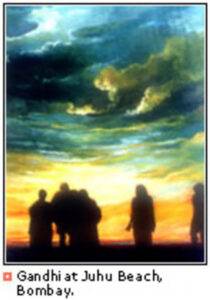 Somnath Khosa
Rajan's grandfather Pandit SOMNATH KHOSA learnt the realist school of oil-painting assisting British artists in the 1930's. But Mahatma Gandhi's call caught him unaware. He spent the last 25 years of his life painting realist works on Gandhi.They can be seen today at Gandhi Smriti in New Delhi and in the Birla Museum (Haveli Museum) at Pilani. A small body of the work is also archived by Naville Tuli of Osian's, Mumbai.